Naam: pittige vissaus
Specificaties: 180 g
Houdbaarheid: 12 maanden

Ingrediënten: plantaardige olie, bonenpasta, peper, zout, gember, knoflook, blauwe peper, witte suiker, kipkruiden, specerijen, sojameel, peper, peper, zetmeel en ga zo maar door.
Opslag: Bewaren bij kamertemperatuur, beschermd tegen licht, en in de koelkast bewaren na opening van de zak.
Breng de grondstoffen gratis mee naar huis, help je de smaak van het restaurant naar voren te brengen!

Stap één: Was de vis die ongeveer 1000 gram weegt en snijd hem in stukken in een container. Voeg het marinade pakket en 10 gram kookwijn of een kleine hoeveelheid witte wijn toe.
Stap 2: Voeg water toe (meer soep is beter) in de pot en voeg een dressingpakket toe (170g). Voeg na het koken de voorbereide visfilet of blok toe en kook 3-5 minuten. Pot de kom en leg de vis. Het pakket wordt op het oppervlak van de vis gestrooid.
Stap 3: Was de pan en doe 150 gram plantaardige olie tot het rijpt. Wanneer de olie opwarmt, rook de pot en giet de vis op de kom.
Voedingswaarde: een redelijke combinatie van vlees en groenten kan een rijkdom aan eiwitten, vitamines, caroteen, vet- en cholesterolabsorptie opleveren, de gastro-intestinale gezondheid beschermen.
Betreffende personen: kantoorpersoneel, computerfamilies, rokende families, alle leeftijden.
Eetgewoonten: Chongqing City, twee rivieren, over de hele wereld om te betwisten. De ongebreidelde en ingenieuze creatie van een reeks [Jianghu-gerechten] door het Pakistaanse volk gonsde door het land. De pittige vis is een model van [nog steeds smaak, goed pittig]. Dit product [Spicy vis] is het beste materiaal, verzoenen met de beroemde leraar, Hongyan heerlijke, vrolijke Italiaanse buik, lange afdronk, vooral belangrijk [Jianghu keuken] karakter.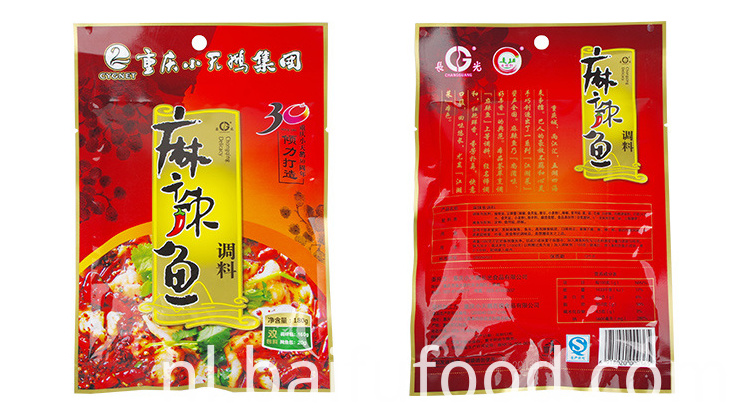 Product Categorie : Viskruiden